Kitchen Countertops Orlando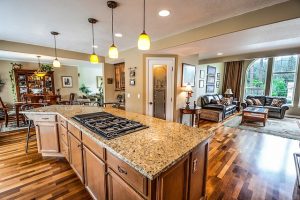 Planning to remodel your kitchen? Get the kitchen of your dreams with Aspen Diversified Construction, Inc. We install all types of custom countertops ranging from stainless steel and marble for chef's kitchens to natural stone and tile. Our experts can help you choose the best countertop material for your kitchen design and your needs, whether you're looking for low maintenance or a big wow factor.
Here's what you should know about choosing the right kitchen countertop for your home remodeling or kitchen remodel project.
Laminate Countertops
Laminate countertops are a popular budget-friendly option that offer good durability and a range of colors and styles. This material has come a long way in the last decade. Today, laminate can resemble many materials, including granite and slate. Laminate is easy to install and very easy to take care of without worrying about using the right type of cleaner.
There are downsides to consider, of course. Laminate is considered a low-end material. Depending on your neighborhood and home, replacing your counters with laminate can negatively impact your home value. Laminate will not last nearly as long as other options. It will also leave visible seams.
Butcherblock/Hardwood
There's nothing quite like the charm of wood kitchen counters. This option is popular in cabins and country homes, but it can work well with most types of kitchen decor. Butcher block is fairly easy to take care of as stains, scorches, and nicks can be sanded away before applying a new coat of mineral oil. You also have many options when it comes to wood countertops, including teak, maple, oak, and birch.
This type of countertop does have weaknesses. Because wood is far softer than metal and stone, it's more easily damaged. This may not be a drawback if you appreciate the character that blemishes can give to your countertops. Every 10-20 years, your counters will need to be sanded and refinished.
Natural Stone Countertops
Natural stone is the top choice for homeowners with unparalleled natural beauty, durability, and appeal. Installing natural stone in your kitchen can help boost your home value and you can be sure that your counters will still be in demand whenever you're ready to sell.
There are many types of natural stone to choose from, depending on your budget, style, and kitchen design:
• Engineered Stone Countertops
• Granite
• Marble
• Slate
• Limestone
• Soapstone
Engineered stone can deliver the best of both worlds: the look and durability of natural stone without the maintenance. Unlike natural stone, engineered stone is completely nonporous and never needs to be sealed. It can also be much stronger than even granite. This type of countertop is usually made from ground quartz mixed with resin and additives. With engineered stone, you can enjoy an almost indestructible countertop that looks just like real stone.
>> Related Content: Kitchen Design Elements
Stainless Steel Countertops
Stainless steel is the material of choice for commercial and chef's kitchens. If you love to cook and envision a gleaming, high-end kitchen in your home, stainless steel is an ideal choice. Stainless steel is incredibly durable and very resistant to stains. It's also very hygienic and easy to keep clean. You will never need to worry about a hot pan damaging your countertops or rust taking over your kitchen.
Choosing countertops for your new kitchen can be a big task. There are dozens of options and hundreds of ways to customize the style, function, and detail of your countertops. We're here to help. Our licensed, insured contractors will help you get the kitchen of your dreams with a countertop that holds up to your demands.