Kitchen Design Elements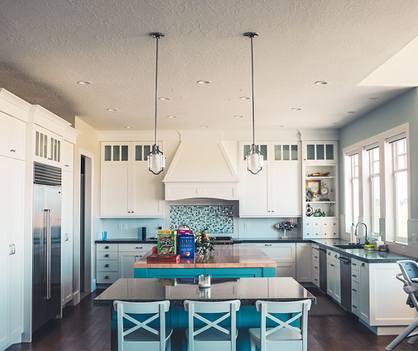 We don't care how big, beautiful, and high-end your kitchen is if it's not functional. Size, style, and design are personal to homeowners. Those who love a small kitchen might be horrified at the thought of a large kitchen and vice versa, but everyone should fear a kitchen without functionality. Whether you're in the process of designing a brand-new kitchen or simply remodeling the kitchen you have, there are a few elements you must consider if you want to have a functional kitchen perfect for you.
The Triangle of Function
We may have made up the name a bit, but the triangle is the most important aspect of any functional kitchen. You're not getting the most out of your kitchen unless your fridge, stove, and sink are in a triable position in the kitchen for ease of access. Nothing is worse than cooking and not having access to all three things. Without flow, working in the kitchen becomes difficult. Similar concepts apply to orlando home remodeling. The processes is not random, functionality should be at the forefront of your mind.
Prep Space
You don't a large center island or a ton of counter space for functional prep space, but you cannot have clutter or you ruin the entire design element of a functional kitchen. The best design elements for any kitchen, big or small, are plenty of counter space or creative storage space. When you utilize every square inch of available space in your kitchen for storage purposes, you allow yourself more space on the counter and a less-cluttered kitchen.
Mounted Microwaves
Thinking about a beautiful range that makes your kitchen look large and upscale? We love a range, but it doesn't mean you're forced to put your microwave on the counter just because it's not going over the stove. A mounted microwave is what you need to ensure you have the most counter space, and it can be mounted under cabinets, in the wall, or anywhere else you choose to add this design.
Lighting
If you're designing a functional kitchen, it has to include the right lighting. You need more than just a light above you to see. You need light under your range so you can see your stove, light above your seating area, and light above you. Recessed lighting is one of the most functional types of lighting in the kitchen, and it's helpful to include this type of lighting along with lights mounted under your cabinets. Additional lighting that doesn't overwhelm you but adds to your workflow is imperative in any kitchen.
Multi-Function Counters
If you're looking to save money in the kitchen, don't do it where the countertops are concerned. You want counters that do more than just look good and provide a place for you to set the napkins. You want something like granite on which you can place hot pans without searching for something to set them on. You can cut your fruit and vegetables right there on the counter, and you can maintain them with ease.
>> Related Content: Kitchen Remodeling on a Budget


Kitchens are the heart of the home, and we love when homeowners come to us to ask how they can make their kitchen not only their dream kitchen but also a functional kitchen. It's easy to forget you need functionality, but your dream kitchen will quickly turn into a nightmare if you don't include the basic design elements needed to create a functional workspace and flow. Let us help you design the kitchen of your dreams that works for you and allow you to work with ease. Call us now to discuss what it takes to create your dream kitchen so we can begin turning it into reality.